HAPPY FATHER'S DAY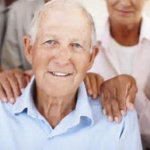 Father's Day is fast approaching.  Every year, the perfect gift is discussed within the family.  Something for Dad's car?  A new grill tool set for the BBQ?  An item for his golf game, a wallet, or a crossword puzzle book? Or maybe some of the latest ideas including a "bacon me crazy gift set," or a "Fitbit," which is a heart rate and fitness wristband.
Although Dad may gladly welcome all of these gift ideas, this year, consider the gift of better communication.  If you have noticed changes in Dad's ability to understand normal conversation, this could be a sign of hearing loss.
Years past, occupational noise exposure in many occupations was not closely monitored.  While Dad was working to provide for his family, depending on his occupation, he may have been repeatedly exposed to damaging noise causing permanent hearing loss.  On the job hearing protection devices were not, in most cases, a priority.  Sadly, many of our older generation now suffer from hearing challenges due to this workplace hazard.
If you suspect Dad is experiencing hearing difficulties, make an appointment for a hearing screening.  This is a FREE service, and the problem may just be ear wax.  So, instead of the "bacon me crazy gift set," remember this.  While Dad was working to bring home the bacon, he may have developed hearing loss that has compromised his ability to communicate with you.
Scott Erickson (BC-HIS)