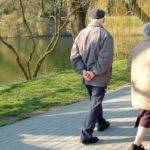 Here is a terrific article from Uplifting Mobility, regarding the benefits of seniors who walk.  To enjoy the entire article, please visit their website: upliftingmobility.com
"People are spending more time indoors. While walking around a city center may be common in some countries, people in the United States are walking much less. The lack of movement is a major issue for the current generation of seniors.
Walking may not seem as beneficial as other cardiovascular exercises like, running, biking or swimming, but there are a lot of health benefits to walking regularly. Especially for seniors.
should seniors be trying to walk more often?
We strongly believe so. Here are some reasons why:
Walking Can Stop Bone Mass Loss
Bone mass loss can lead to bones that break faster and more easily. Older people that are at risk of osteoporosis should be walking in an attempt to maintain their bone mass into old age. Hip fractures, a common occurrence in seniors, was reduced by 40% by walking just 30 minutes per day, according to one study.
Walking Strengthens Muscles
A major complaint that follows aging is that a person isn't able to maintain their muscle mass going into old age. The loss of muscle mass is natural, and it begins occurring in your 30's and 40's, but these losses can be offset or stopped with regular exercise.
Walking has been shown to strengthen the:
Stronger muscles lead to better overall mobility, and they also alleviate pressure put on the joints, which can worsen the effects of arthritis.
Improved Circulation
Circulation problems do occur when you age. This can lead to heart disease, high blood pressure and a variety of other health-related issues. The University of Tennessee found that walking improves circulation, offering the following benefits:
Lower blood pressure
Less risk of heart disease
Poor circulation can further lead to swelling and water retention among many other issues. Studies find that walking just 30 minutes a day can reduce blood pressure by nearly 11 points on average.
Weight Loss
Weight gain is detrimental to a senior's mobility. Walking increases the metabolism and helps to burn excess calories. Just 30 minutes of walking per day can lead to an additional 200 calories burned per session.
This can lead to weight loss and an easier time maintaining weight.
Mental Sharpness is Increased
The mental sharpness of a senior is very important for self-esteem and confidence. The University of California conducted a study on walking and the slowing of mental decline. The study included 6,000 women who were aged 65 and older.
Women who walked more often were found to have less memory decline than their non-walking counterparts.
Women who walked an average of 2.5 miles per day were able to lower their mental decline to 17%, rather than 25% for women who walked less than 0.5 miles per week.
Studies have also been conducted on the lowering of Alzheimer's risks and walking. Men between the age of 71 and 93 were found to have a lower risk (roughly 50% less risk) of getting Alzheimer's disease or dementia if they walked just a quarter mile per day.
Your brain needs walking to stay young and vibrant.
Walking Makes You Happier
Depression plagues a lot of people as they age. When seniors lose some of their mobility, they may even become depressed. Happiness and walking have been linked together. Cardiovascular exercise, such as walking, will help your body release endorphins.
These endorphins are what make you happy and also increase your mental stability.
Walking Increases Lifespan
Seniors who want to live a happy, long and healthy life will find that walking has been shown to reduce the risk of death. A study conducted on people that exercise regularly in their 50's and 60's found that these individuals were 35% less likely to die over an eight-year period than their counterparts.
Final Thoughts
Walking just 30 minutes a day is recommended for seniors and people of all ages. A brisk walk can help you lead a happier, healthy life well into old age. It is very important as you get older to stay active. Maintaining your muscle mass and flexibility goes a long way in keeping you healthy and independent. It will also greatly reduce the need for a walker or other type or walking aid. However, if you do find that you are needing some support when you are getting around you may need a mobility aid. To see what we recommend please click the following link: http://www.upliftingmobility.com/walkers-for-seniors/."