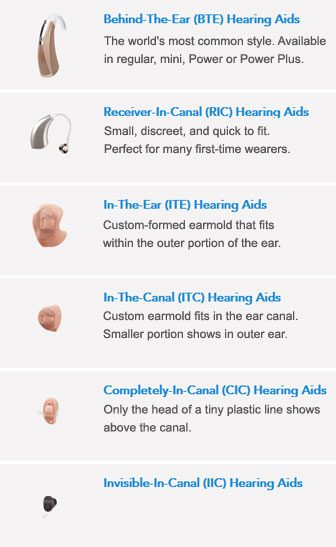 Many clients are concerned with getting the best value for their money spent on their hearing aid. Our philosophy is to give you a fair price and the best possible care you can receive. You will get professionals that care about your hearing and provide you with as many follow-up visits it takes to make sure you are completely satisfied with your purchase. We offer a 60 day, 100% money back guarantee.
Prices vary from $750 to $3995 per hearing aid, depending on the level of technology. Financing available with 12 months 0% interest O.A.C.
**If you can find a better price on our products elsewhere, we will meet that price!
**Hearing screenings are always free.
Starkey Hearing Aids:
Ears to U offers Starkey Hearing Aids due to their history of innovation, performance and American-made craftsmanship. Starkey is the perfect fusion of today's leading research, advanced science, innovative technology and cutting-edge design — each and every hearing solution from Starkey is engineered to deliver optimal performance specific to your unique needs and lifestyle.
Starkey offers a wide variety of products based upon your specific needs. They include: 
Halo – Control your hearing experiences with Halo, the breakthrough Made for iPhone

®

Hearing Aid, and TruLink™, Starkey's personalized hearing control app. Halo hearing aids are engineered to work with your iPhone, iPad

®

 and iPod touch

®

, so FaceTime

®

 and phone calls, music, videos and more stream directly into your hearing aids with pristine sound quality – no background buzzing and whistling.
SoundLens – the first custom fit invisible-in-the-canal hearing aid, meaning its completely invisible, and totally designed to fit your lifestyle.
3 Series -Has been proven to reduce listening effort and cognitive fatigue when used in tandem with InVision Directionality
X Series – line of traditional digital hearing aids.
Wi Series – Wireless hearing aids that can enjoy hands-free phone conversations and listen to the TV or radio at the volume you want, while others around you can listen at the volume that's most comfortable for them.
Xino – mini RIC with a longer lasting, 10A battery, configurable user control, and loaded with all of Starkey's leading performance features.
Ears to U professional staff can help you determine the right fit for your needs, budget and lifestyle.
Email: info@coloradohearingaid.com to schedule a free evaluation today!
"I have always been treated nice and fixed anything that was wrong, my hearing aids are very important to one and they keep them working good…. " – Dorothy Thompson, Alamosa