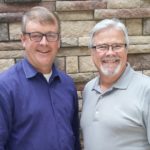 Special guest Jon Wilson, an Audiologist with Unitron, will be joining me for a three day event to present new technology and ways to optimize your communication abilities.  Jon has over 22 years experience helping people hear better, with a passion for fitting hearing aids and helping rehabilitate hearing impairments. 
You may be asking yourself, is it hearing loss or just ear wax?  We can help you answer that question.  You are invited to a FREE HEARING AID CONSULTATION.  Now, with state-of-the-art fiber optic otoscope technology, you can find out what's happening inside your ear. 
We will also be introducing the latest in RECHARGABLE hearing aids.
Unitron is proud to introduce the MoxiTM
Fit R, the worlds smallest rechargeable hearing aid. An easy, overnight charge keeps you hearing all day with no interruptions. Now you can have comfort, style and convenience all in one package.
We invite you to take the first step towards better hearing by calling us today.  This is a three day event only!
Tuesday, August 8th

Wednesday, August 9th

Thursday, August 10th
Call us today to schedule your appointment.
Ears 2 U Hearing Aid Services
Alamosa, Colorado (719)587-9820
Pagosa Springs, Colorado (970)731-4554