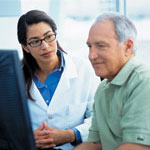 The advanced art and science behind every Starkey hearing aid is based on a simple philosophy: You deserve the very best in performance, comfort and personalization.
As a world leader in hearing innovation, Starkey has helped millions of patients experience more with never-before-seen hearing aid technologies. As a pioneer, Starkey was the first to develop an in-canal hearing aid,  digital and fully programmable invisible hearing aid, as well as technology that made hearing aids virtually feedback-free.
Furthermore, Starkey brought nanotechnology, touch technology, waterproof technology, and tackled hearing in noise to the hearing aid industry. To this day, Starkey continues to break new growth and provide innovative solutions to patients.
Craftsmanship
From Starkey's patient-proven strategies, Starkey produces the most comfortable and effective hearing aids. Ears to U staff has the most comprehensive diagnostic equipment available to measure your hearing ability, ear canal shape and inner ear acoustics. This allows us to work with Starkey to create a hearing aid that meets your specific needs and matches your unique lifestyle — right from the start.
Philanthropy
Hearing loss is a global problem and Starkey is committed to help spread the gift of hearing to every person who wants it. To that end, founder Bill Austin started the Starkey Hearing Foundation in 1984. Based on the simple premise, "Alone we can't do much. But, together we can change the world," the Foundation has funded a worldwide outreach program called "So the World May Hear," that has distributed nearly 1,000,000 hearing aids around the world to people in need.
"I am very satisfied with the service I have received from Scott and Tish. The hearing aids are very comfortable to wear and seem to help my hearing a great deal.  Thank you very much!!"
– David Stuber, Alamosa